Blaney After Talladega Heartbreak: "We Really Want to Win"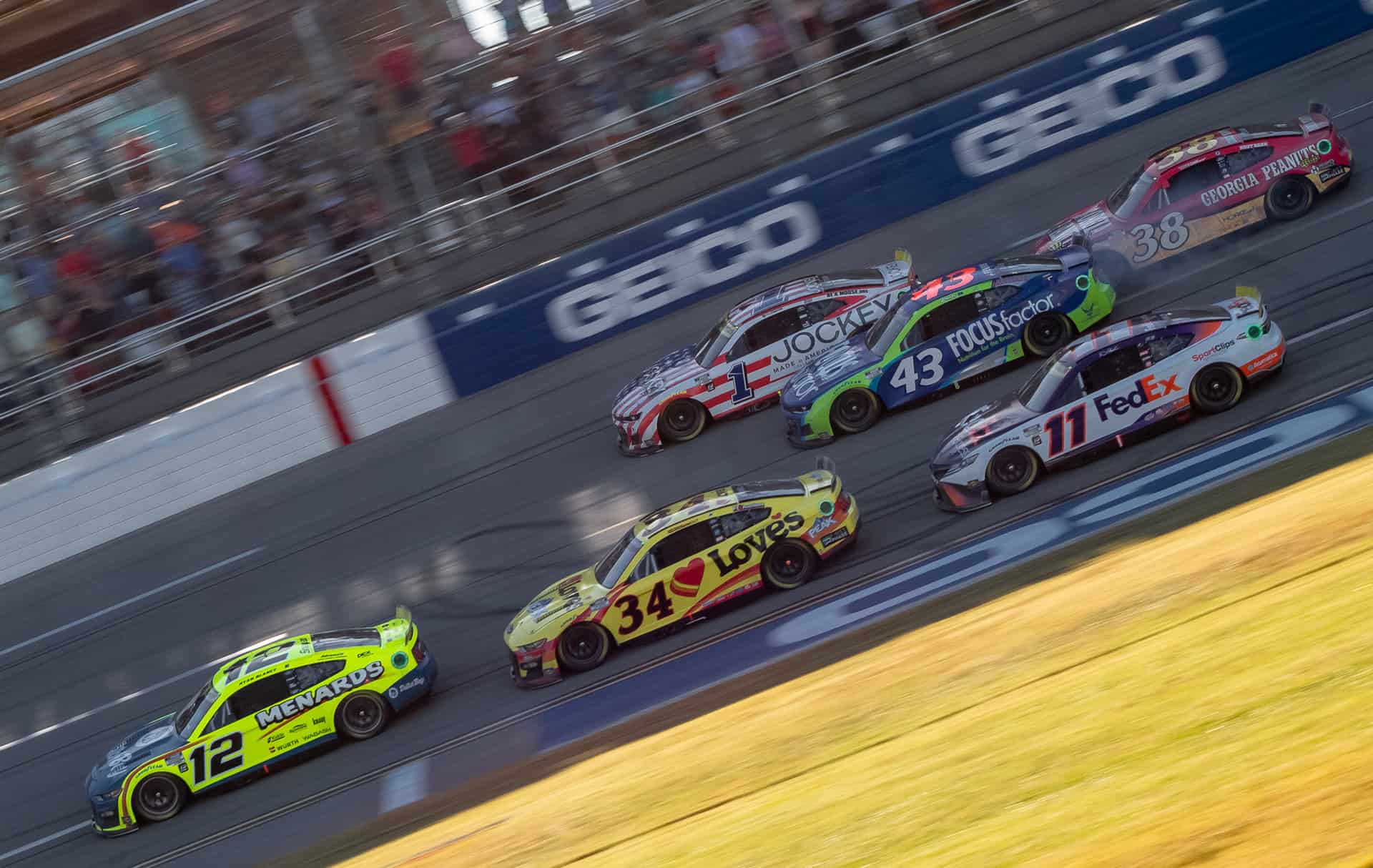 03/10/2022 00:55
TALLADEGA, Ala. – There were three photo finishes in NASCAR's fall triple-header at Talladega Superspeedway. And with each photo finish, there is one driver that wishes their front bumper was a few inches longer.
At the conclusion of Sunday's YellaWood 500, Ryan Blaney was the racer eyeing the front of his No. 12 Team Penske Ford Mustang, finishing second to Chase Elliott by four hundredths of a second.
"It just stinks to be so close to our first win of the season to just come up short," Blaney shared with Kickin' the Tires.
Blaney was up front during the majority of the final stage. He radioed to his spotter that he preferred working with Brad Keselowski and Kevin Harvick, both of which helped push the 28-year old to the front multiple times. But during the final set of pit stops, both pushers received speeding penalties, leaving Blaney to fend for himself.
With no teammates in sight, Blaney dueled with Erik Jones, who combined leading 25 of the last 26 laps. He quickly figured out which lines worked better for his speed, as he walked through the closing laps.
"I probably would have done one or two more things different, but I didn't want to give up the bottom," Blaney explained. "I didn't want to get to the middle and have the chance to get split. I trust Chase (Elliott) a lot but not that much to not split me for the race win. I figured to just get in front of Michael (McDowell) – he was a good pusher – and I thought we had a good shot at least staying side by side with the 9 and kind of it being a drag race. But we just got separated in (turns) 3 and 4. I think the 11 laid off of him, and it let the 9 get clear.
"I had a big run. It just wasn't enough."
He did win the million dollar bonus earlier this year in the NASCAR Cup Series All-Star Race at Texas Motor Speedway. But as the Playoffs press on, the desire to win continues to build. And with more non-Playoff drivers winning in the Playoffs, those wins can be even more valuable than ever before.
"It's a little bit different than what you're used to seeing in the Playoffs," continued Blaney. "But at the end of the day, a lot of these guys who aren't in the Playoffs winning races are with great teams with great drivers. I'm not fully surprised. In the Playoffs, usually you see every Playoff guy win a race, but it's just a little bit different this year. I'm happy we're in a decent spot on points, though."
He won the inaugural Roval race at Charlotte Motor Speedway back in 2018, but hasn't won on a road course since. Despite no top five finishes this year when turning right, he still holds his head high in confidence and shoulders down in focus. The confidence comes from his strong runs at past road course events, but the focus will boil down to survival of the fittest. So far, multiple issues have been held at Turn 1 where drivers get pushed wide, especially in late race restarts.
The main difference is the runoff.
Road courses are designed for runoff where drivers can overshoot corners or miss a braking zone and not have a heavy impact with the wall right away. Whether there be grass, asphalt or gravel, that gap helps with safety concerns. At the Roval, there is no designed runoff considering it all is held within a 1.5-mile oval. Avoiding the chaos is going to be vital to get into the next round.
"It'll be a wild race, that's for sure," he said about next weekend. "You have a couple guys that need to win the race. You have a couple guys right on the cut line. Fortunately for us, we have a decent buffer so I think we can be kinda smart about what we do and put ourselves in a spot to finish and move on."
No matter if it's the unknowns of 'Dega or the chaos of turning right. There's only one thing on Blaney's mind.
"We really want to win."